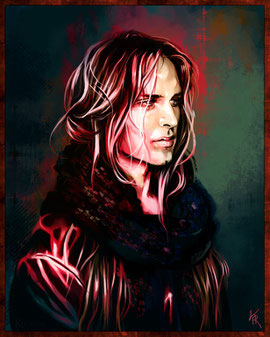 Portrait of David Boals,

one of the most famous male models of the 90's.

A birthday gift requested by my friend Lucia for my other friend Elisabetta, who likes the man; hence the title. 
It's also supposed to be a portrait of an original character created by her, a vampire character who should look like David.



Photoshop CS3 + Wacom tablet.
"Who did the deed"
- See if we can see who did the deed.
- You're not gonna summon the damn thing here?
- No. I just want to get a sneak peek at it, like a crystal ball without the crystal. [...] Take each other's hands. And I need to touch something our mystery monster touched.

Supernatural 4x01 || "Lazarus Rising"

Dean, Sam and Bobby ask the medium Pamela Barnes to summon the unknown entity who dragged Dean out of Hell. They think it's a demon of some sort, but they are so wrong. It's much more powerful and, unfortunately for Pamela, more dangerous than a demon.
---
The other one is a speedpaint PS coloring of one of my Dean drawings, taken from ep. 2x01 "In my time of dying".