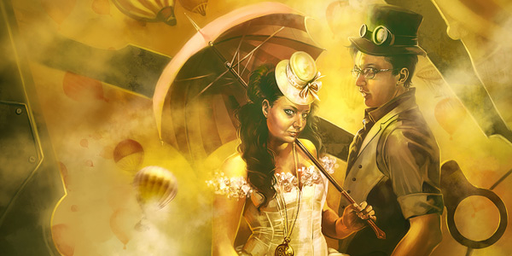 Personal illustration commissioned by Amanda, who requested a portrait of her husband and her in a steampunk-themed scene.

I completed this artwork a couple of months ago, but waited till Amanda's wedding was over to post it online. Had lots of trouble… and lots of FUN with this! I think I worked on it forever (at some point PS crashed and the psd file was corrupted in the process - had to repaint big areas) - also, painting scenery and clothing isn't really my strong suit - , but I'm quite happy with the result. 
The prompt was really exciting, too. I love steampunk but, before this, I never challenged myself to paint anything in this style. I used a few brushes for the air balloons and part of the little flowers on the corset. Everything else is painted by hand. 

Photoshop CS3 - Wacom Tablet + many many hours + lots of references for clothing, propellers, zeppelins etc.

Artwork © Kittrose & Amanda K.